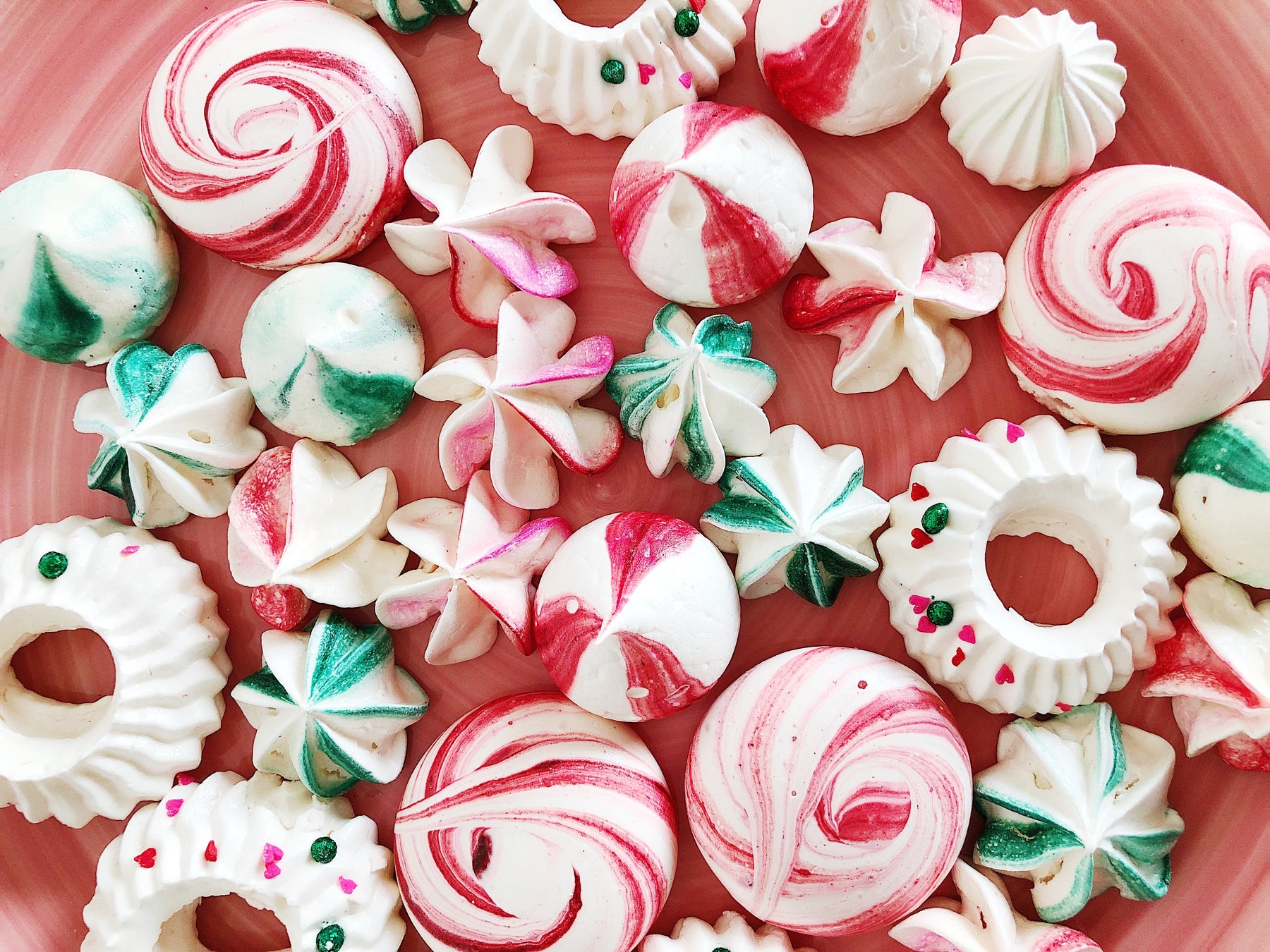 Fluffy Christmas Merengues by María Espinosa
It's always a pleasure to meet an admirable woman with a dream. María Espinosa is young, energetic and exceptionally talented - mom of two gorgeous toddlers, a busy wife, a very accomplished baker and a hard-working entrepreneur building her baking business from scratch. How does a mom of two toddlers manage to squeeze all that in a day's time? By determination to do a job she loves, to give the example to her children about how to follow their passion and by not sleeping much.
2 years ago, María was a new mom who loved spending time at home with her new husband and baby but craved for something to do. For someone who comes from a long line of women who cooked exceptionally well, putting an effort in food preparation was a way of conveying love and affection to Federico, their babies, people for whom she cared deeply and share warmth of a home-cooked meal, crispy pastry or a delicious piece of cake. María decided to make a batch of Christmas cookies for family and friends which was a huge hit, so it became another batch, then 5, then 30. Soon, Maria was spending her days with the baby and her nights arduously baking until 4 am. The cookies were a rampant success, and, over time, the seasonal project grew into a full-blown endeavor.
For the following two years, María was learning, testing recipes and baking until the wee hours of the night, while her cakes became one of the most popular options for birthdays, weddings and all kind of celebrations in Irapuato. Today, Maria's elaborate, elegant pavlovas, mouth-watering chocolate and salty caramel bundts, impressively inspired lemon curd or her legendary buttercream cakes adorned with mini-merengues are the high point of the stylish social events in Irapuato, slowly becoming the must-have piece of any classy party. Her Instagram site @marialovesbaking is a visual festival, check it out here.
Especially for our Mexico Inspiration blog, María shares her recipe for one of the most popular desserts in Mexico:  the Christmas Merengues.
Fluffy Christmas Merengues
Makes about 150 mid-sized pieces
Originally European, merengue arrived at Mexico through the convent kitchens of Puebla during the XVII century and soon became one of the favorite sweet treats. A large variety of merengues are still sold by merengueros in Mexico City, Tlaxcala or Puebla, who carry them on large flat boards through the city streets, just like their parents and grandparents did for centuries before them. Even one of Diego Rivera's famous murals, Dream of a Sunday Afternoon in the Alameda Central, shows the life in Mexico City in the early XX century and features a young merenguero among the renowned citizens, historical personalities, legendary fictitious characters and beloved city salesmen (right in front of the balloons).
Whether you prefer small merengue kisses, duquesas, suspiros or large gaznates (thin, fried pastry tubes filled with merengue foam then baked), merengues with a touch of lemon, vanilla or pulque, colored in a traditional pink, blue, yellow, striped, dotted with sprinkles or plain white, this recipe is for you.
You Will Need:
6 egg whites (at room temperature)

¾ cup sugar

¾ cup powdered sugar

Food coloring for pastry

Pastry bags and tips, or 2 teaspoons

Flavors (optional)
What to Do:
In a medium sized bowl, beat the egg whites and sugar using an electrical mixer at a medium speed until the mix is foamy and you achieve high peaks when the beater is raised. Sift the powdered sugar slowly on top and continue beating for 2 more minutes.
Tip 1:  If you would like to add pulque to your merengues (or any liquid flavor for that matter), the right moment would be right after you add all the sugar but continue to beat carefully to prevent the foam from deflating. You will need one spoonful of 2 days old pulque per egg white.
Add the food coloring of your choice - this is the Christmas merengue edition, so the green and red are the obvious favorites.
Tip 2: If you would like to achieve the perfect stipes like the merengues on the pictures, don't add the food coloring directly to the egg whites mix, but rather paint a few stripes on the insides of the piping bag, then fill the piping bag with the white mix, as shown here:
Prepare your baking tray by lining it with parchment paper, non-stick liner or a silicone mat.
If you have piping bags and tips, fill the bag up and start forming round and star meringue shapes. If you don't have a piping bag, you can scoop the portions with one teaspoon and push it on the baking tray with another.
Pre-heat the oven to 115°C / 230°F and place in the baking tray with meringues for about 45-50 minutes. If your oven runs on gas, the temperatures may vary significantly from the indicated on the dial. It is highly recommended to use an oven thermometer to confirm your merengues are being baked at right temperature.
Tip 3: Smaller merengue pieces need shorter baking time.
Turn off the oven when they are done but leave then in the oven to cool overnight. The merengues need to dry, but not turn yellow.
Tip 4: Keep your merengues stored in an air-tight container so they don't pick up the humidity and become sticky.
When in Irapuato, order your merengues or a lavishing birthday cake from María Espinosa:
 María Loves Baking
 All photos with the courtesy of María Espinosa & @marialovesbaking.