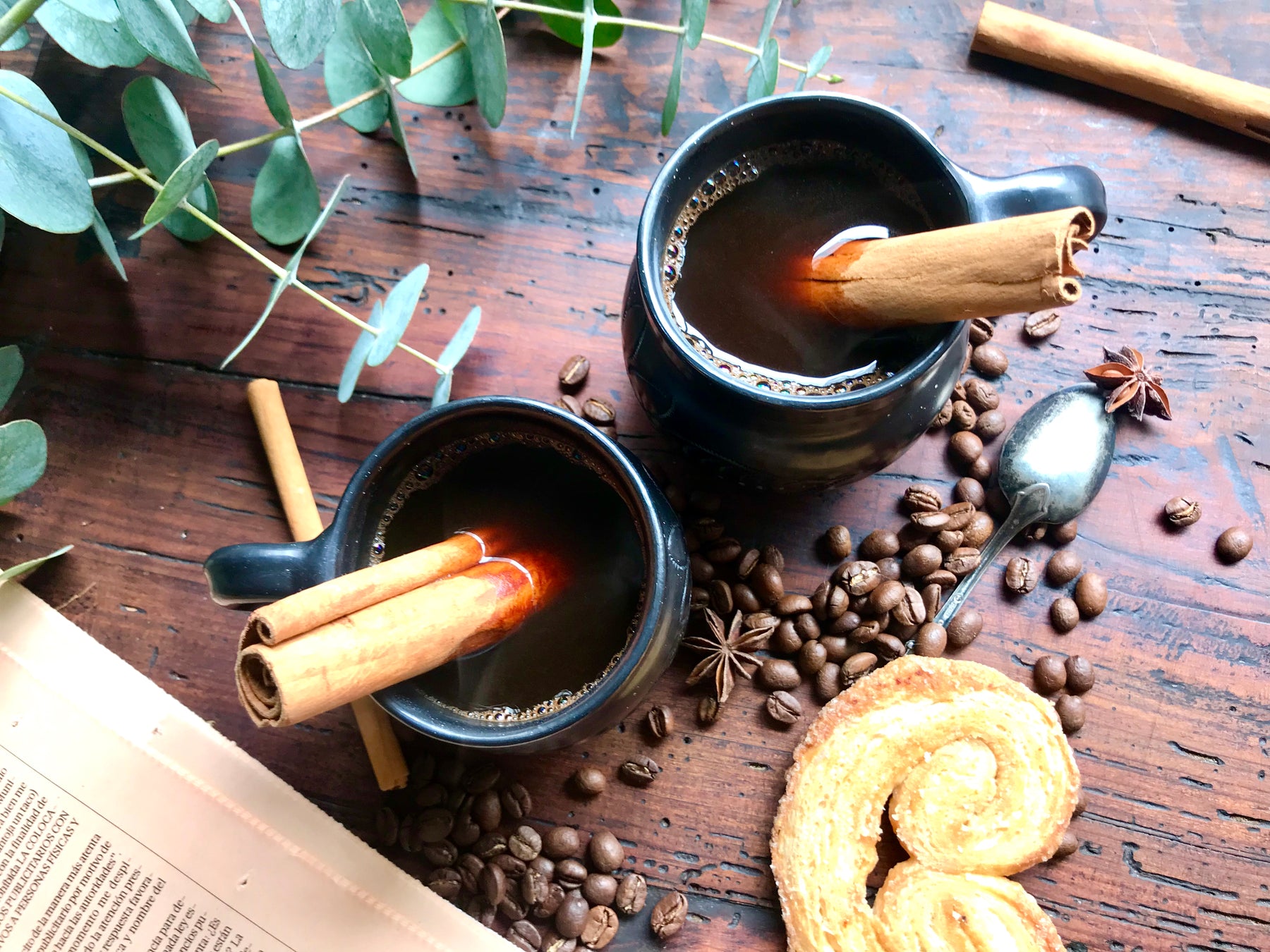 Memories of Café de Olla - Original Recipe
 Authentic Mexican coffee recipe, with more than 100 years of tradition, made in a similar way cocoa was brewed at the time. It became popular during the Mexican Revolution 1910 as a beverage offered to the tired soldiers, as a sweet comfort and a remedy against the cold.
A crucial part of the collective memory and the winter months in Mexico,
Café de Olla
Coffee Brewed with Cinnamon, Orange Peels and Piloncillo Sugar
Serves 4 
You will need:
(Optional)
1 piece of star anise
a couple of cloves
*Piloncillo, also known as Panela in Latin America, is unrefined, dark brown sugar, a product of the sugar cane. Piloncillo has strong, recognizable taste as it still contains the minerals, vitamins and raw sugar cane ingredients that would later be removed during the refinement process. It's sugar at its rawest, richest version. Piloncillo is usually sold in small or large conic pieces, traditionally produced in piloncillo molds.
What to do:
Boil water in a pot, preferably one made of clay, as the clay pot minerals add to the traditional taste of the café de olla. Add piloncillo, orange peels and the cinnamon sticks and continue boiling until all piloncillo is dissolved. If you like anise or clove, add them at this step.
Add ground coffee to the mix, cover the pot and continue brewing for a few minutes on a lower heat. As soon as it boils again, remove from heat and keep covered for 5-10 minutes so that the cinnamon, orange, piloncillo and coffee flavors can blend well together.
Strain and serve hot, in an original Mexico 1492 black clay jarrito cup with a piece of cinnamon as a stirring stick. As piloncillo contributes to flavor and sweetness, there is no need for additional sugar. Serve with a piece of Mexican pan dulce (sweet pastry) or a puerquito de piloncillo, a thin, dark, crunchy cookie in the shape of a piglet, made with piloncillo raw sugar, and usually sold on Mexican markets.
Perfect for a rainy day and bringing back childhood memories.