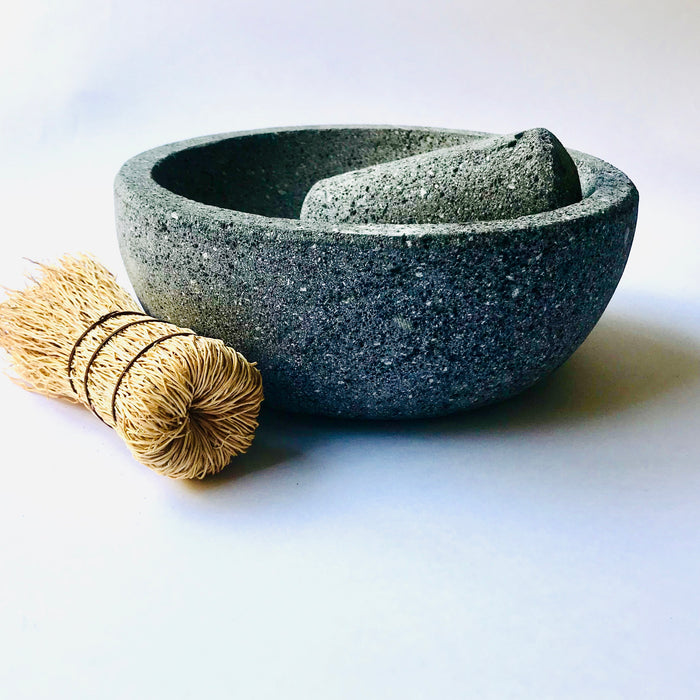 Volcanic Rock Mortar & Pestle - Molcajete - Round Base - 8"
Save

Liquid error (snippets/product-badge line 32): Computation results in '-Infinity'

%
Mexican kitchen cannot exist without a molcajete. Big or small, plain or ornamented, molcajete (mortar) is one most traditional kitchen tools in Mexico, in use since pre-Columbian times for grinding salsas, moles and other liquid foods, unlike the metate that is used for grinding seeds, grain and dry food. Made from the volcanic stone (a.k.a. lava stone), molcajete contains small pores that add to the tool's usefulness, offering a highly efficient grinding surface. Every molcajete comes with a hand, called tejolote, used to press the chili, garlic, onion or avocado against the walls of molcajete. Due to the material it was made from, molcajete is always very heavy, which gives strong base for the repeated grinding efforts.
Today, molcajetes are widely used in Mexican restaurants for preparing and serving salsa, guacamole, or even steaks with cheese and grilled nopal.
This molcajete was made by a family of stone carvers from Puebla, from the volcanic stone mined from the sides of the Popocatepetl volcano.
Each of our molcajetes comes with a small gift: a traditional cleaning brush made of roots, called metlaxelhuaztli.
Pair it up with an authentic volcanic stone spoon for serving your salsa.
IMPORTANT: Before using the metate for any food preparation, we highly recommend consulting our article for preparing the volcanic stone items for use in the kitchen (in Spanish, this process is called Curación).
D 20 cm (8"), H 8 cm (7.7")
Weight 4.5 kg +/- 0.15kg (variations per piece)