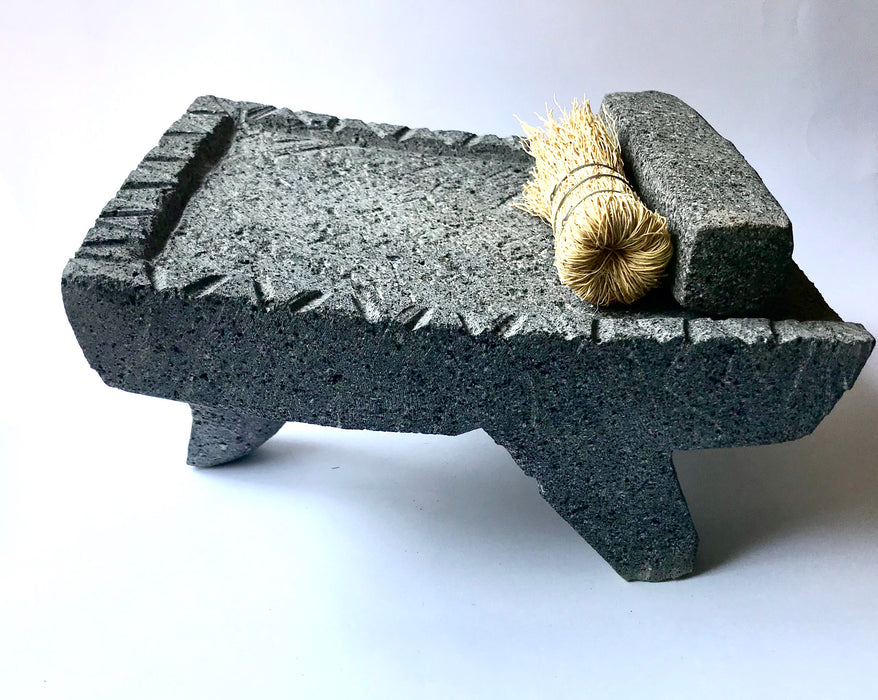 Volcanic Rock Grindstone - Metate - Jalisco
Metate is one most traditional kitchen tools in Mexico, in use since pre-Columbian times as a basic tool for grinding seeds and grain, like corn for tortillas, cocoa seeds for chocolate, spices and, in recent years, coffee, unlike the molcajete that is used for grinding liquids and sauces (like salsas, guacamole, moles, etc). Made from the volcanic stone (a.k.a. lava stone), metate contains small pores that add to the tool's usefulness, offering a highly efficient grinding surface. Every metate comes with a hand, called metlapil (a child of metate), used to press the seeds against the flat stone surface of the metate. Due to the material it was made from, metate is always very heavy, which gives strong base for the repeated grinding efforts.
Our metates are made by a traditional family of stone carvers from Tlajomulco, Jalisco, who have been making metates and molcajetes for generations using the local volcanic rock. Metlapil (the hand) is rectangular, which offers a larger contact surface and grinding efficiency.
Metate comes with a small gift: a traditional cleaning brush made of roots, called metlaxelhuaztli. A traditional metate is usually placed on a petate, a small palm-leaf woven rug that offers a soft surface to kneel behind the grinding stone. Small petates, sized as individual placemats, are available in our shop, in Natural Fibers collection.
IMPORTANT: Before using the metate for any food preparation, we highly recommend consulting our article for preparing the volcanic stone items for use in the kitchen (in Spanish, this process is called Curación).
L 30cm (12")