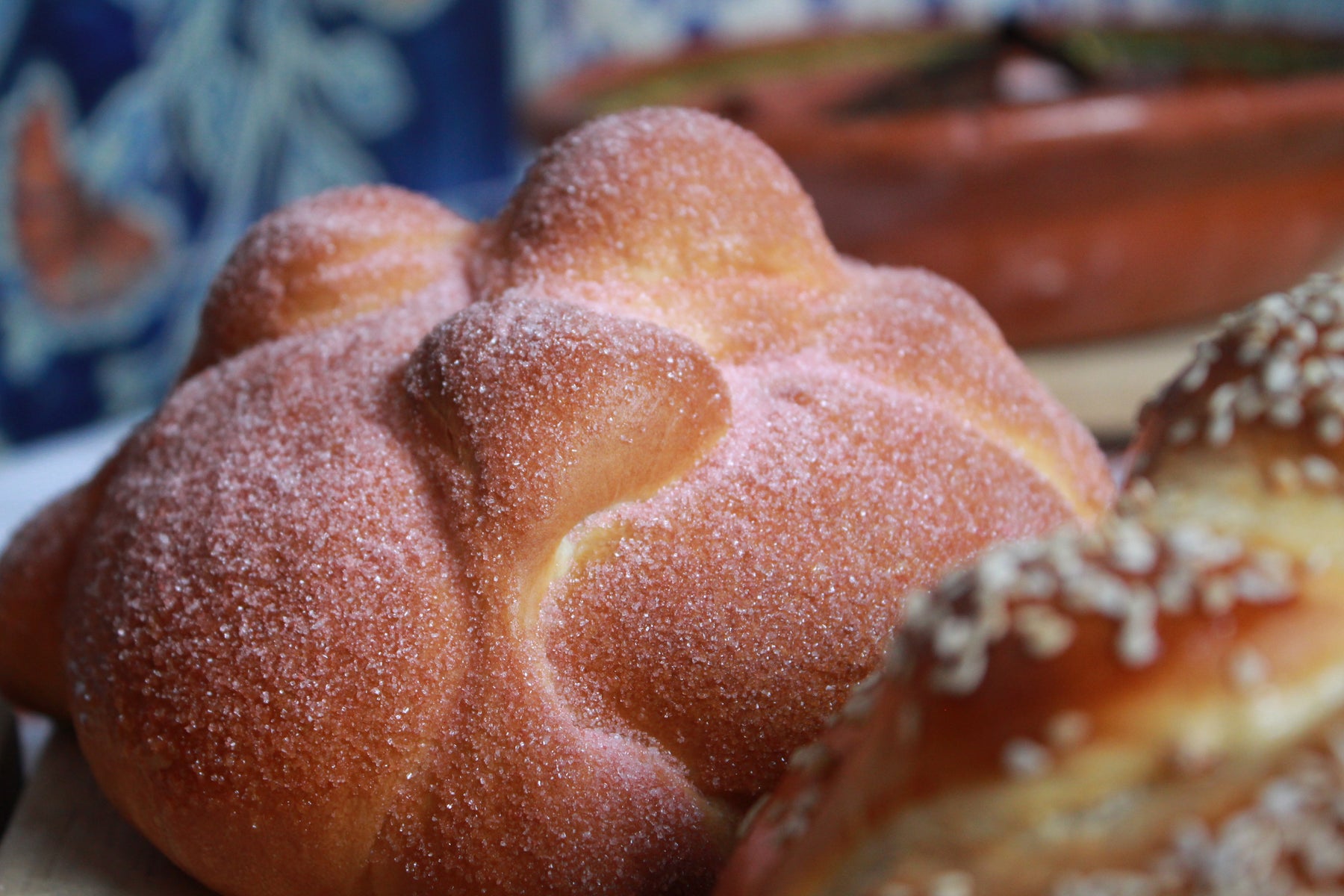 Traditional Pan de Muerto Recipe by Chef Yuri de Gortari

With a glorious moustache and dressed in traditional Mexican charro style, chef Yuri de Gortari has a commanding presence even before he says a word. His culinary classes are rich with details from the pre-Columbian, Spanish and modern Mexican cuisine, historically framed for reference, with antique utensils and anecdotes that he shoots one after another as a gunfire. He shares proudly what he learned from the bakers, street taqueros, market cooks and village women all around Mexico, and he gives credit where credit is due. His classes are always filled with professional chefs, small food business owners, culinary anthropologists and the kitchen-enthusiasts (like yours truly).
Chef Yuri is one of the most known culinary experts in Mexico, with a specialty in Mexican gastronomy. He is a TV and radio personality in Mexico and in Spain, co-authored 8 books on Mexican cuisine, collaborated in many magazines and the books by Mexican National Council for Culture and Arts. With the renowned Mexican gastronomy historian Edmundo Escamilla, he founded one of the most prestigious culinary schools in Mexico,
Escuela de Gastronomía Mexicana, Historia, Arte y Cultura (School of Mexican Gastronomy, History, Art and Culture)
in 2007, which is known as the
best school of Mexican cuisine today
. 
If you enjoy cooking, there is no better way to have fun and learn about the culture than to attend a cooking class, so when you are in Mexico City 
check the list of upcoming classes at ESGAMEX
and pick one. You won't regret it.
The famous Mexican Bread of the Dead has a very peculiar story: it represents the union of two traditions, pre-Columbian and European. When the Spaniards arrived at the New World, they were shocked by the practice of human sacrifices, performed frequently as a customary act of appreciation for the gods. During those acts, a damsel was sacrificed and her still beating heart was enrolled in amaranth, to be eaten by the high priest himself. To avoid further offerings of this kind, the Spaniards introduced a symbolic practice of baking a bread shaped as a heart and bathed in red sugar. With time, the symbolism was completed by adding the ornaments in shape of a skull and bones we know today. It is quite unlikely to find the colored sugar pan de muerto in Mexico City these days, but they can still be found in smaller towns.
The most traditional Mexican pan de muerto is a necessary item on any Day of the Dead altar (ofrenda), and a tasty treat that you can find in any bakery in Mexico from September till November. It is one of the Mexican favorite pastries – a way to defy death by eating it, it reflects a general cheerful attitude of any Mexican towards death and the beyond.
This Pan de Muerto recipe comes from chef Yuri's "Cocina Identidad" collection of videos, available in Spanish on YouTube. I would highly recommend you see it and hear it from the chef himself, as he is the one who knows his stuff (while I am just practicing). However, if Spanish is not your forte, here comes the recipe in English.
Bread of the Dead (Pan de Muerto)
Serves 2 (or 1 very hungry individual)
Ingredients:
Dough:
250g (2 cups) flour (plus some more for dusting)
5g (1 tablespoon) dry yeast
75g (½ cup) sugar
3g (1 teaspoon) salt
1 egg
45g (1.5 oz) butter
100ml (¾ cup) warm milk
Zest of one orange
Orange blossom essence (½ teaspoon)
Glaze:
Butter (as needed, about 30g or 1 oz)
Sugar (as needed, about 30g or 1 oz)
Procedure:
Place 2 spoonsful of flour, dry yeast and 1 small spoonful of sugar. Mix it and add some warm milk (not cold, and not hot, as it will kill the yeast organisms). The sugar is a necessary addition to provide food for yeast. As soon as you mix it all into a uniform mass, you will notice small bubbles on the surface, which means it started working. Leave it on a warm spot for some 15 minutes, while you knead the rest of the dough. Not in the oven, not on the hot stove – just somewhere warm. 
Place the rest of the flour on a flat surface where you can work the dough, in shape of a volcano (with a hole in the middle). Make sure you still have some extra flour for later, to dust the surface. Add salt, half of the sugar and all orange zest uniformly to the flour, break an egg in the middle and place the butter with it. Start working the dough, little by little, from the center towards the edges. If you like the Agua de Azahar (Orange blossom essence), this is where you add it, but just a bit because its aroma is quite overwhelming.
Add milk in the amount necessary to keep the dough moist. After you work the dough and obtain a uniform mass, add the rest of the sugar. Chef Yuri says it's a proven master bakers' trick to avoid the dough getting too moist too soon.
By the time you finish with the dough, the fermented flour and yeast should be ready. Join the two and continue working the dough. This is where you'll need some more flour for dusting and to combat the stickiness. When the dough is smooth and uniform, so you can stretch it and it doesn't break, we're ready to let it rest and rise.
Grease a bowl where you will leave the dough to rise. Grease the dough lightly as well, so it can rise at ease. Cover the bowl with a clean cloth and place it on a warm spot. At this point, preheat the oven to 200°C (392°F).
When the dough doubles in size, dust the surface and knead it lightly. Separate a piece of though that you will use for the ornaments. Form a perfectly rounded ball with the rest of the dough by softly moving it in circles, while keeping the seam beneath it (this is the part that I suggest you watch chef Yuri show you what the dough needs to look like and how to form the dough ball, as mine doesn't look good at all). Flatten the dough ball slightly and place it on a greased oven tray.
Add some more flour to the rest of the dough so it doesn't rise as much as the rest. Form 2 or 3 sticks and one small ball. To form the bones, spread your fingers, press the sticks and roll them back and forth in such a way that they form 4 bumps and 3 valleys each. Place them in a cross over the ball of dough. The small ball, representing the skull, should be placed at the top, after squishing the cross point a bit to allow space for it. Leave the prepared dough again, to allow it to double its size again, and place it in the preheated oven for about 20-30 minutes.
When the bread gets the yummy golden crust, take it out of the oven, glaze it generously with melted butter while it's still hot, and dust it with sugar.
Pan de Muerto is usually enjoyed with a nice, sweet cup of hot Oaxacan chocolate, but chef Yuri recommends trying it with a creamy, corn atole, and we agree.
Recipe for hot chocolate and atole coming up soon!