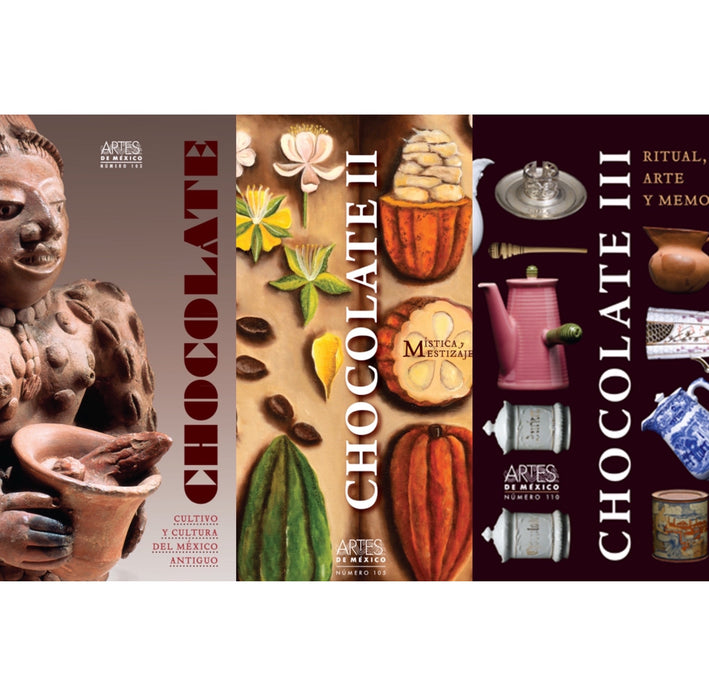 Chocolate I, II & III - Artes de México
Save

Liquid error (snippets/product-badge line 32): Computation results in '-Infinity'

%
Set of 3 books, bilingual edition (English and Spanish).
Chocolate: Cultivation and Culture in pre-Hispanic Mexico. In the rainforests of Mesoamerica, the first cacao tree was born and the first Maya sheltered in its shade and used its beans both as a currency and to prepare the frothy beverage of the nobles. This issue explores the ancestral relationship between humans and cacao.
Written by: Fray Toribio de Benavente, Nikita Harwich, Jean-Michel Hoppan, fray Diego de Landa, Nezahualcóyotl, Philippe Nondedeo, Nisao Ogata, fray Bernardino de Sahagún, Guadalupe M. Santamaría, Valentine Tibère, Tlaltecatzin
Chocolate II: Mysticism and Cultural Blends. With the arrival of the Spaniards, cacao experienced its own cultural blends. The colonists of New Spain discovered its medicinal properties, but it also became the subject of heated moral and theological debate. This second issue deals with the changing views on chocolate and its impact on the Western world, and includes traditional ways of preparing cacao, one of Mexico's great contributions to the world.
Written by: Mario M. Aliphat Fernández, Laura Caso Barrera, Michael D. Coe, Sophie D. Coe, Sonia Corcuera de Mancera, Laura Esquivel, Miguel León-Portilla, Pedro Pitarch, Mario Humberto Ruz, José Luis Trueba Lara, Marta Turok.
Chocolate III: Ritual, Art and Memory. This third volume dealing with chocolate offers up an irresistible banquet that extends from the pre-Hispanic era to the mid-twentieth century. This issue is meant as a kind of chocolate box wherein each text contains its own flavor and wisdom.
Written by: Jorge Betanzos, Martha Few, Nikolai Grube, Michael Heinrich, Johanna Kufer, Guadalupe Loaeza, Anahí Luna, Salvador Reyes Equiguas, José Luis Trueba Lara, Rafael Vargas.